Optimism (OP) has opened the year on an optimistic note as it enjoys a bull run. On the flip side, it has suffered sluggishness in terms of total value locked (TVL).
Here's a quick snapshot of Optimism:
  OP price spikes by 5.76%

  OP down in terms of TVL; now only $500 million

  Users save as much as 99.4% on ETH
Arbitrum is seen to have blazed past the other leading Layer 2 blockchains including Optimism and Polygon when it comes to TVL. Regardless, the former remains unfazed as it still accelerates in tempo and dominates the L2 space.
🔥 THE TVL BETWEEN TOP LAYER 2 ON ETHEREUM 🔥

By overcoming #Polygon and #Optimism, @arbitrum has naturally risen to the top 1 Layer 2 in TVL through 2022.

Do you think @arbitrum will become the new home of DeFi. (💙,🧡)? Let's comment below 👇#Arbitrum #DeFi pic.twitter.com/AAtP0g8e2V

— Arbitrum Space (💙,🧡) (@Arbitrum_Space) January 1, 2023
Optimism On A Bull Run
According to CoinMarketCap, OP price is up by 5.76% or trading at $1.02 as of press time. On the contrary, its TVL isn't too impressive as it dwindled down $550 million to now only $511 million as seen in the past 30 days, which also negatively impacted revenue.
Chart: DeFi Llama
The term "Layer 2" is used to describe an additional framework or protocol that is implemented on top of an existing blockchain system.
These methods are designed to address the problems of transaction throughput and scalability being experienced by the most prominent bitcoin networks.
Crypto total market cap at $778 billion on the daily chart | Chart: TradingView.com
Optimism has been swinging and switching back and forth to higher lows and bullish highs. Evidently, OP price has spiked by as much as 15% overnight and is now green with the price range at $1.02.
In the event that the bulls can hold on to its optimistic price momentum, Optimism could shoot to as much as $1.45 in the coming days.
Can OP Barrel Past Key Resistance?
There is an increased positive price action seen with Optimism as it is predicted to rally to as much as $1.53 in the next couple of weeks, and barreling past the key resistance. OP is going through an obvious uptrend and could retest the key resistance zone at $1.45.
Meanwhile, Optimism has the ace in terms of gas efficiency compared to its rivals. One of the perceived reasons behind the incrementing growth usage on Ethereum is that users can save more ETH whenever they use Optimism.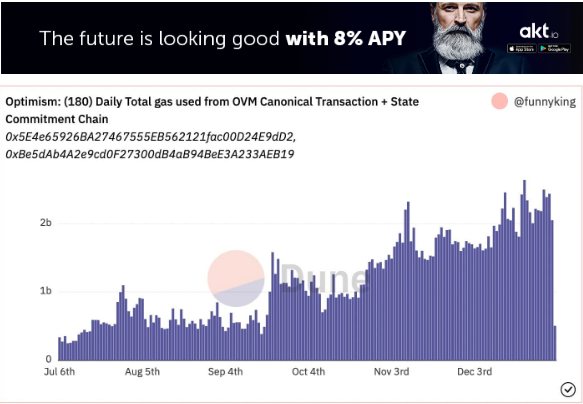 Chart: Dune Analytics
Optimism was able to use less gas than other L2s, despite having a lower TVL and lower income, as reported by Dune Analytics. Even when compared to Arbitrum, the Layer 2 solution performed better.
Customers' aggregated savings from using Optimism for transactions also kept rising. As of this writing, the Ethereum scaling solution helped its customers save up to 98%.
Chart: Dune Analytics
OP's network, on the other hand, is faltering in terms of growth which hints the plunge in transactions and new user addresses. More so, development activity has also declined which could get in the way of its chances to attract new users.
On the brighter side, OP is spiking in terms of market capitalization as it is up by 6.74%.
-Featured image: The Coin Republic