Data shows almost all the big public crypto companies have underperformed Bitcoin this year, with the mining firms taking an especially hard hit.
Most Public Mining Companies Saw Drawdowns Of 90% Or More In 2022
As per the year-end report from Arcane Research, 2022 was a very challenging year for public firms in the crypto sector. The below chart displays the drawdowns in the valuations of some of the big players in the market, as well as that of Bitcoin, during the last twelve months:
The deep red performance of the public companies in the digital asset sector | Source: Arcane Research's 2022 - Year in Review
As the graph shows, Bitcoin performed terribly this year, seeing negative returns of around 65%, but the large public crypto firms have done worse still. Even Microstrategy, the company whose stocks' main attraction is exposure to BTC through its large reserves, couldn't perform comparably to the asset and observed a deeper year-to-date drawdown of about 74%.
The market cap of the popular crypto exchange Coinbase has gone down by 87% this year, which has led to the firm being valued lower than meme coin Dogecoin. The worst performer in the list seems to have been Core Scientific, recording a drawdown of 99%. Core Scientific is one of the biggest Bitcoin mining companies, but due to these large losses, the firm had to file for Chapter 11 bankruptcy earlier in the month.
Similarly to Core, other BTC miners have also sustained major drawdowns this year, with most of them being 90% or more underwater for the period. But why did the mining firms perform especially poorly? The explanation behind that is multifold.
"Similar to how crypto lenders were incentivized to prioritize short-term growth over long-term sound business decisions to attract private capital, public miners were incentivized to take on debt and rapidly expand its hashrate share to attract more capital," the report explains.
But three factors meant that this bet from these companies couldn't pan out. First, the interest rates kept rising this year. Second, the bear market meant that the price of Bitcoin kept plunging, leading to the value of miners' rewards also becoming lower.
And finally, the third nail in the coffin was the rising energy prices, which resulted in very low or no profits for miners as they have to constantly pay electricity bills to keep their facilities running. All these factors lead to the public miners collapsing under the weight of their short-sighted decisions.
For 2023, Arcane Research's prediction for these public crypto companies is that there will be new Chapter 11 bankruptcies filed in the year.
BTC Price
At the time of writing, Bitcoin is trading around $16,500, down 2% in the last week.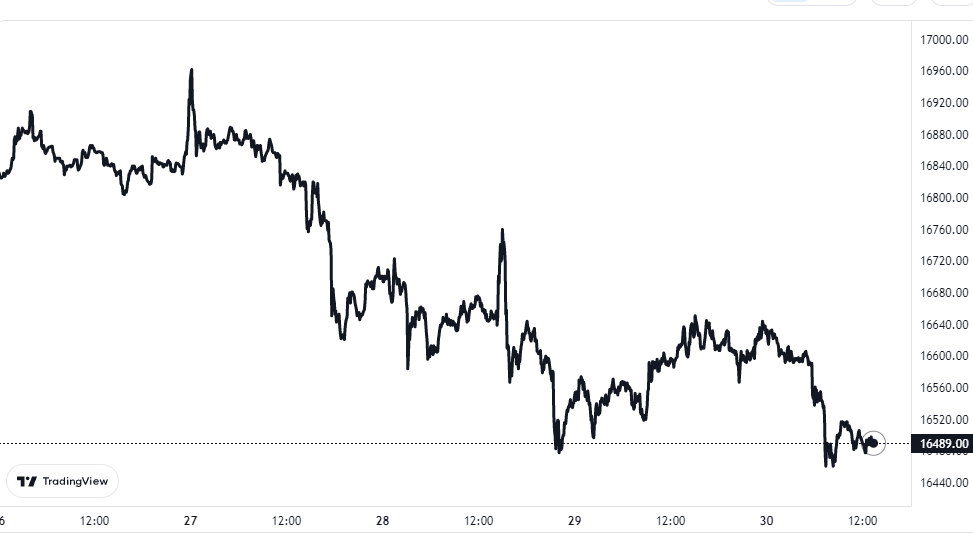 Looks like BTC has gone downhill in recent days | Source: BTCUSD on TradingView
Featured image from Becca on Unsplash.com, charts from TradingView.com, Arcane Research